Custom Shaped Windows – Long Island, NY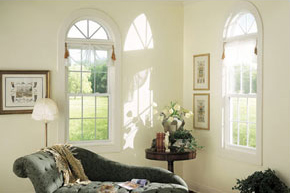 Curves, angles, arches, circles, ovals, octagons—Window World offers them all. These fixed glass geometric shaped windows will enhance the architecture of any home and can be standalone or combined with other window styles to create a beautifully unique window! Window World is one of the only custom window companies in the Long Island area to offer custom shaped window manufacturing and installation.
Regardless of the geometric style you choose, your home will become more energy efficient, as each of our special shaped windows are available with Low-E energy efficient glass, which can save you up to 24% on monthly energy costs! No maintenance geometric windows from Window World of Long Island are custom manufactured to meet your Long Island area home's personal style and taste. Replacing your old, drafty windows with Window World's high quality replacement windows is one of the best home improvement decisions you can make! While saving money on long term energy costs, you'll also be adding to the property value and overall beauty of your Long Island area home!
Custom Geometric Vinyl Window Shape Options
Cathedral

Cathedral w/ Extended Edges

Circle Top

Ellipse

Eyebrow

Eyebrow w/ Extended Edges

Half & Full Crescent

Half & Full Circle

Half Eyebrow

Half Eyebrow w/ Extended Edges

Hexagon

Hexagon w/ Extended Edges

Octagon

Octagon w/ Extended Edges

Half & Full Oval

Pentagon

Equilateral Pentagon

Pentagon Left/Right

Quarter Arch

Quarter Arch w/ Extended Edges

Trapezoid

Triangle

Equilateral Triangle

Irregular Triangle

Isosceles Triangle
6500 Series Custom Windows
Window World's 6500 Series Custom Windows add a unique flair to any room. Every strategically engineered component of the windows work together to bring you high energy efficiency and low utility bills. Custom windows have no operable sash so the windows do not open.  Because of this, the windows offer beautiful unobstructed viewing areas. Custom windows give you the opportunity to show your unique style and showcase your personality in your home. Best yet, the 6500 Series windows are covered by Window World of Long Island's impressive Lifetime Limited Warranty.
View 6500 Series Color Options »
CUSTOM 6500 WINDOW SERIES FEATURES
Multi-chambered frame

profiles increases thermal performance and strength

Dual-paned ¾" insulated glass unit

is the optimum size and is virtually air-tight

Glass

penetrates ½" into the sash, keeping glass edges warmer and reducing temperature transference

SolarZone™ glass

enhances energy efficiency

Intercept® U-channel spacer system

keeps convection rates low
Considering adding custom geometric shaped windows to your Long Island area home? Contact Window World of Long Island for your free, in-home estimate today!