Double Hung Windows – Long Island, NY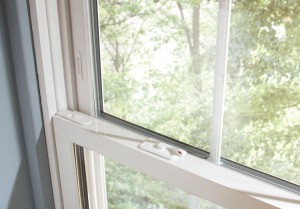 When it comes to installing double hung windows in your home, look no further than Window World of Long Island. Whether you are looking to select windows for a new home, or you need to replace your current windows, double hung windows from Window World are a classic option that come in a variety of styles and sizes. All of our double hung windows are built for easy cleaning and maintenance, and are backed by our Limited Lifetime Warranty. Learn more below!
4000 Series Double Hung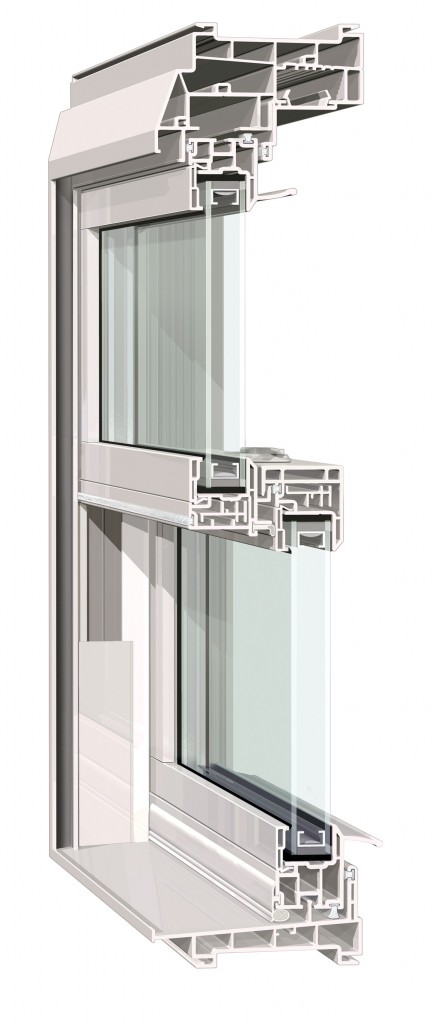 4000 Series windows from Window World are beautiful as well as remarkably solid, sturdy and stable. Our beveled mainframe design is exceptionally slim and refined. Their sleek construction easily complements any type of architecture. You will find that 4000 Series vinyl frames will never chip, peel, crack or warp, and are maintenance free. The 4000 Series tilt-in sashes make cleaning a pleasure due to our effortless tilt latch. The ultimate choice for beauty, comfort and energy efficiency. The 4000 Series windows help to pay for themselves through lower energy costs, freedom from maintenance and increased property value. Our impressive Lifetime Limited Warranty* delivers the peace-of-mind you would expect from an industry leader.
4000 Series Features
Best-in-Class Performance Features:
Reinforced narrow silhouette frame and sash profiles make a statement of style with their low-profile design. The result is a beautiful and expanded glass area. At the same time, internal chambers increase structural integrity, rigidity and energy efficiency.
Composite meeting-rail reinforcement allows for secure mounting of hardware; the non-conductive material helps reduce the transfer of energy.
End-of-throw cam shift locking delivers increased strength and protection to the recessed lock. It also includes an "unlocked" indicator.
The smooth and uniform, true sloped sill quickly directs water runoff without the use of weep holes, keeping the exterior of the window clean and attractive.
Our telescoping sill dam delivers a triple payoff: protection from air and water infiltration, increased structural stability and enhanced beauty.
When extreme wind and weather hit, our proprietary sill interlock stands strong. Traditional sloped sill designs can allow the sash to bow during powerful winds, but with our interlocking sash-to-sill technology, the sash is channeled firmly into the window frame for a unified wall of strength.
Our innovative screen bulb seal creates a snug fit that eliminates light and insect penetration between the screen and frame. It also aids in easy screen installation and removal.
Additional Sliding Window Features:
Sashes glide horizontally for easy opening and closing.
Both sashes lift out for convenient cleaning.
Nylon-encased dual brass roller system for smooth gliding performance.
Insulated Glass Packages to Meet Your Needs.
Maximize your energy savings by choosing a high-performance SolarZone™ insulated glass† package to meet your specific climate challenges. The lower the U-Value, the less energy you'll need to heat your home. The lower the Solar Heat Gain Coefficient (SHGC), the more you'll conserve on air-conditioning.
Thermal Performance Comparison4
Double-Hung
Sliding
U-Value
SHGC
U-Value
SHGC
Clear Glass
0.46
0.59
0.45
0.59
SolarZone
0.29
0.30
0.28
0.30
SolarZone ThermD Elite
0.27
0.21
0.27
0.21
SolarZone ThermD iE
0.27
0.30
0.27
0.30
Air/Water/Structural Results
Air/cfm
Water/psf
Structural
Window World 4000
0.4
6.0
DP40
4500 Series Double Hung Windows
Popular in homes of every style, Window World's 4500 Series Double-Hung windows showcase style and value. The beautifully contoured design of the rugged vinyl frame blends with traditional to contemporary homes, and virtually all styles in between.
Widely loved for their dual operable sash that tilt in for easy cleaning, Window World's 4500 Series Double-Hung windows offer exceptional functionality. Made of premium vinyl that will never fade, and including features like vent latches and constant-force balance systems, these windows provide dependable performance, year after year.
DOUBLE HUNG 4500 WINDOW SERIES FEATURES
Multi-chambered vinyl profiles increase strength and thermal performance.

Dual-paned 3/4″ insulated glass units are available with SolarZone™ glass.

Glass penetrates sash 1/2″ to keep edges warmer.

Frames and sash are welded at mitered corners for lifetime dependability.

The sloped sill design prevents water from pooling during heavy rains.

Multiple weather seals at various points around each sash reduce drafts.

Closed-cell foam sill bulb reduces water infiltration.
6500 Series Double Hung Windows
Window World's 6500 Series Double Hung Windows are precisely engineered for superior energy savings. Built to last, our vinyl frame design replicates a wood appearance but is virtually maintenance free. With two operable sashes, Window World's 6500 Series Double Hung Windows are cleaned easily from inside the home for the perfect combination of style and efficiency. Also, warm-edge technology is achieved efficiently from optimum-sized insulating glass units and a unique spacer design. In addition, the 6500 Series windows are covered by Window World of Long Island's impressive Lifetime Limited Warranty.
View 6500 Series Color Options »
DOUBLE HUNG 6500 WINDOW SERIES FEATURES
The strongest type of construction is featured in the frames and sashes which are welded at mitered corners
Frame profiles feature divided chambers for high thermal performance and added rigidity
Double- strength insulating glass unit is ¾" – the optimum size for dependable energy efficiency
Standard SolarZone™ glass enhances energy performance
Glass edges are positioned ½" into the sash to help maintain even temperatures
U-channel spacer design is more thermally efficient than traditional box spacers because it weakens energy currents as they are forced to travel an extended distance
Meeting rails interlock around dual lines of weatherstripping which guard against drafts
Sloped sill designs prevent water from pooling during heavy rains
Multiple weatherseals around each sash reduce drafts
Water penetration is blocked due to a closed-cell foam barrier seal located at the sill
Windows can be held in any open position because of a coil spring balance system
Lift rails are molded into the sash and will not loosen or break off
Vent latches allow for ventilation without opening the sash fully